ADAPTING TO YOUR SALES MODEL AND THE IDENTITY OF YOUR CONCEPT,
to create a completely new experience you can duplicate in all your venues: that's what we do. 
Are you a franchisor or franchisee?
After an in-depth study of your specifications and store layout, we develop a set of units adapted to each of your environments, architectural identity and merchandising, through exclusive bespoke services.
We work alongside you while maintaining total independence and responsibility as regards your teams.
We monitor the production schedule in real time and anticipate all the different requirements connected with your order, so that we meet your needs while strictly complying with deadlines.

Make the most of our customised advice in laying out your sales area. We shape our solutions and the customer circuit to your offer and venue so that customers feel thoroughly at ease, and your products are seen to their best advantage.

Benefit from innovative solutions in terms of lighting and preservation, with 3 in 1 lighting, transparent glazing, generous length (up to 4.5 m), sliding tunnel lighting, zero condensation (class 7), demisting and more.

Advice on the layout and arrangement of your premises, the long-term life of your chilled display cabinets (up to 5 years' guarantee), your cabinets' connection (OCF Serenity Connect), a 2-year rental service, etc.
Impassioned by their work, in 2005 Laure and Jean-François Feuillette took over a local bakery in Blois, "Le Théâtre du Pain", and made a real success of it. But they were looking to share easy, friendly moments with their customers as well as a taste for good food – and that's when they dreamed up the idea of making each shop into a chic and appealing tearoom. The concept took off in 2009. The shop, as cheerful and welcoming as a family home, offered a wide range of sweet and savoury delicacies.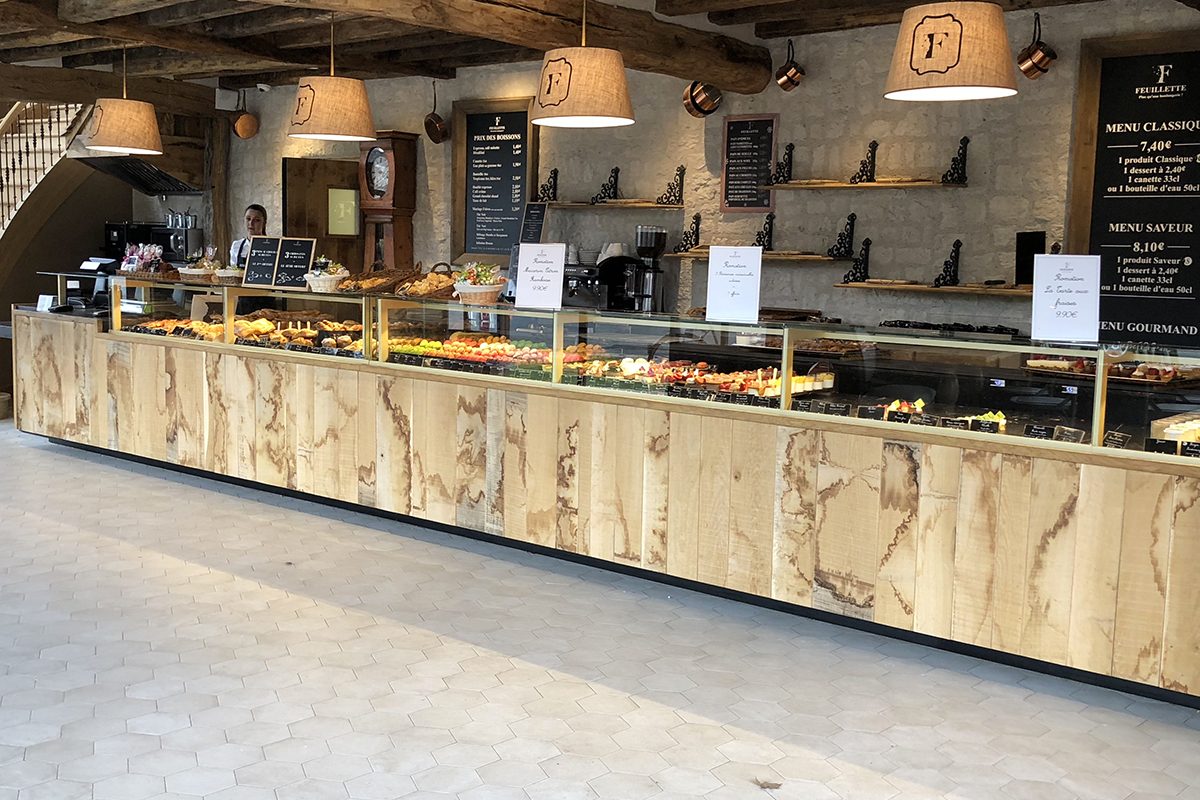 Tell us about your project
YOUR REQUIREMENTS
Getting to know you,
to put you truly in the spotlight
From exploring your background,
your talents and your dreams to the specific features of the place to be fitted out, we study every aspect of your display cabinet project in detail, to ensure the best possible result in terms of the venue's ergonomics and enhancing your creations.
THE DESIGN
Conceptualising the display cabinets and your shop
After getting a clear picture of your requirements and the specific features of your business, our design office produces a 3D model positioning the furniture in your premises, after validating the technical feasibility and the cost of materials.
BESPOKE PRODUCTION
100% integrated and controlled,
on our premises
The integration of all the trades within the company, control of materials and in-depth knowledge of your business lines mean that we can propose products that fit with projects and specific needs in every way, with top quality finishes.
PREPARATION AND INSTALLATION
A successfully completed
project 
Towards the end of the project, we need to anticipate unloading conditions and installation constraints to fit in with the other trades involved. Our versatility and experience enable us to guarantee total efficiency in the installation and start-up of your units.
We helped them
create a completely new visiting experience and enhance the presentation of their creations.