Maison Feuillette stands for a passionate life: 16 years of history, French expertise, many notable specialities and a unique experience to savour with family or friends.
A story of taste and sharing
Laure and Jean-François met at the INBP (French National Baking and Pastry Institute) in 2004. Fuelled by their shared passion, they bought a neighbourhood bakery, Le Théâtre du Pain, in 2005, where they enjoyed real success thanks to their famous macarons.
Then, in 2009, the Feuillette concept began to take shape and grow.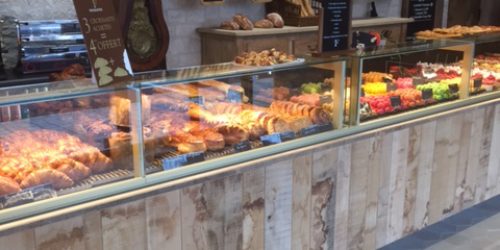 More than a bakery, a hub for life
Beyond their fondness for tasty treats, they wanted to share moments of comfort and togetherness with their customers. Thus was born the idea of making each shop into a chic yet warm tea room. Maison Feuillette decided to expand its product line to offer a wide variety of sweet and savoury delicacies to be enjoyed whilst surrounded by a comfy, cosy décor.
Over time, the bakery became a huge success and a hot spot for having a good time with friends over a quick lunch or for sharing a gourmet breakfast or a snack with family.
This concept of a unique bakery experience is growing each year, with more than 40 bakeries today, including some 20 under franchise.
High standards and high quality on the menu
At this renowned establishment, with its warm and cosy décor, Jean-François and his wife Laure have left nothing to chance. For the layout and creation of chilled display cabinets for their bakeries, Maison Feuillette has placed its trust in OCF.
"OCF was the obvious choice for our shops […] display cabinets are the main ingredient for elevating our products, which is why great lighting is so important."
"What I like best about OCF is their professionalism and their responsiveness. Whenever I have a request for a product presentation, the team is ready to listen and offer me a bespoke service to create the perfect displays to really show off our products." – Jean-François Feuillette